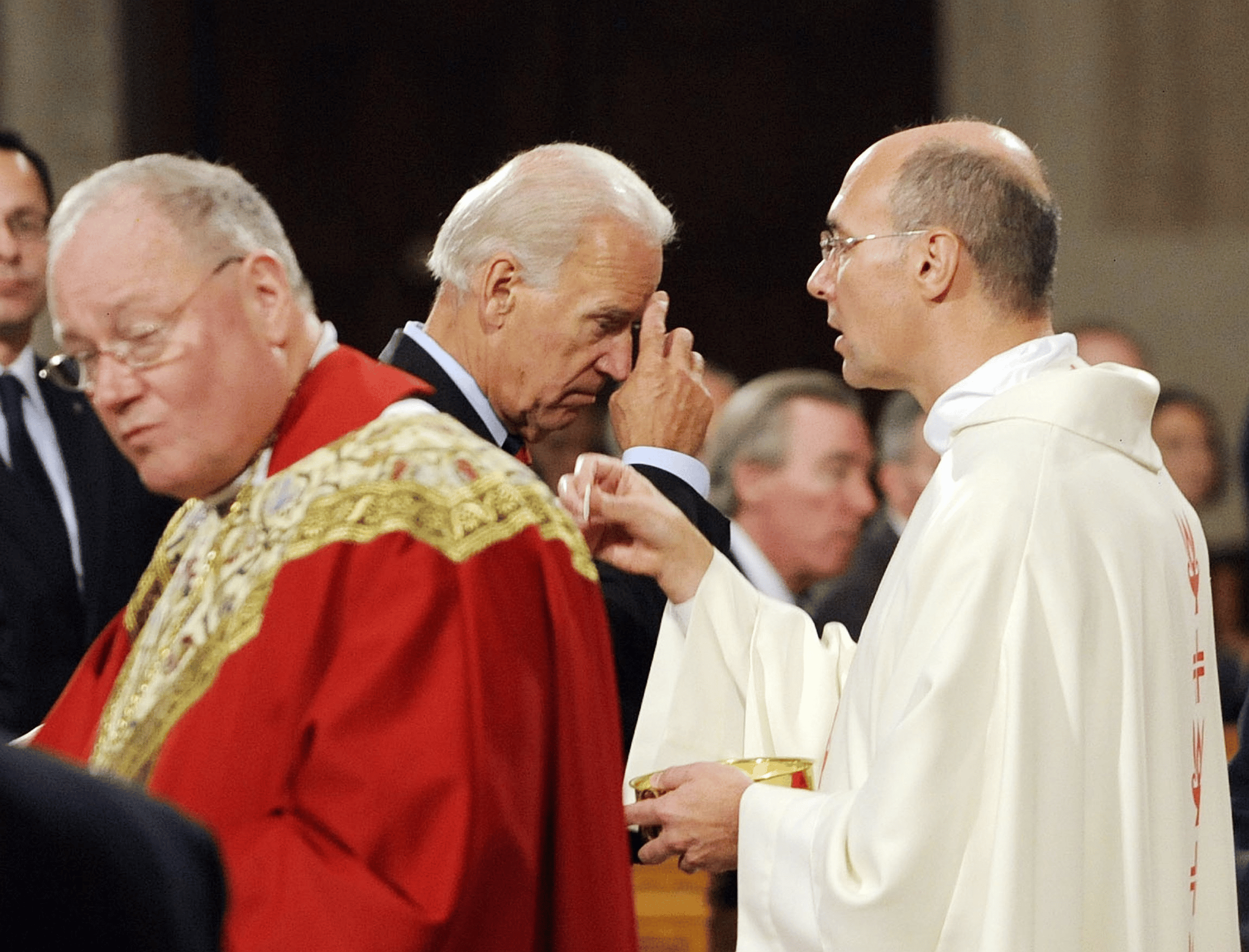 As I write this on the Feast of the Holy Name of Mary, I am reflecting on the Immaculata, the pure soul that gave her fiat upon hearing Archangel Gabriel's message. Uttering the name Mary brings us hope because we know that our salvation comes through her Son. Other than Him, she is the holiest person that has ever lived. Her womb was the first tabernacle for our Lord.  She will be our champion for truth and save the world.
Our Lady of Fatima tells us the Rosary, the Eucharist, and world peace are all connected. "If you do what I tell you, many souls will be saved," the Blessed Mother told the Fatima seers. The connection to the Eucharist in Our Lady of Fatima's message comes symbolically. The date of our Blessed Mother's first appearance in Fatima was May 13, celebrated then as the feast of Our Lady of the Blessed Sacrament. That title was given to Our Lady by St. Peter Julian Eymard in May 1868.
How would Mary ponder in her heart upon cardinals and bishops who stubbornly continue offering the Eucharist to Catholic politicians, like President Biden or Nancy Pelosi, who obstinately persist in grave sin and lead others to do the same?  What would you do if you were a priest or seminarian and you are ordered to give communion to such a Catholic politician who brings scandal to the Church because of their support and ardent advocacy for abortion, homosexual unions, etc.?  At what point would you disobey that command?
There is a view that all are welcome to receive the Eucharist because this Bread of Life is for sinners.  Pope Francis has often spoken of being pastoral and not restricting communion to individual politicians.
Yet as we have heard from St. John Paul II (when he was Pope) in his final encyclical, Ecclesia de Eucharistia, who said:
"I therefore desire to reaffirm that in the Church there remains in force, now and in the future, the rule by which the Council of Trent gave concrete expression to the Apostle Paul's stern warning when it affirmed that, in order to receive the Eucharist in a worthy manner, one must first confess one's sins, when one is aware of mortal sin."
The 2007 "Aparecida Document" that came from a Latin American bishops' conference in Aparecida, Brazil, led by Cardinal Jorge Bergoglio, now Pope Francis, and approved by Pope Benedict XVI speaks to this issue directly.  In that document, it clearly stated that pro-abortion politicians should not receive communion:
"We should commit ourselves to 'eucharistic coherence,' that is, we should be conscious that people cannot receive holy communion and at the same time act or speak against the commandments, in particular when abortion, euthanasia, and other serious crimes against life and family are facilitated.  This responsibility applies particularly to legislators, governors, and health professionals."
If this is not clear enough for the Catholic faithful, then there is Cannon Law 915 and 916 which state:
Can. 915 Those who have been excommunicated or interdicted after the imposition or declaration of the penalty and others obstinately persevering in manifest grave sin are not to be admitted to holy communion.

Can. 916 A person who is conscious of grave sin is not to celebrate Mass or receive the body of the Lord without previous sacramental confession unless there is a grave reason and there is no opportunity to confess; in this case the person is to remember the obligation to make an act of perfect contrition which includes the resolution of confessing as soon as possible.
In 2004, Cardinal Joseph Ratzinger explained to U.S. bishops that:
"Regarding the grave sin of abortion or euthanasia, when a person's formal cooperation becomes manifest (understood, in the case of a Catholic politician, as his consistently campaigning and voting for permissive abortion and euthanasia laws), his Pastor should meet with him, instructing him about the Church's teaching, informing him that he is not to present himself for Holy Communion until he brings to an end the objective situation of sin, and warning him that he will otherwise be denied the Eucharist.

"When 'these precautionary measures have not had their effect or in which they were not possible,' and the person in question, with obstinate persistence, still presents himself to receive the Holy Eucharist, 'the minister of Holy Communion must refuse to distribute it'."

This decision, properly speaking, is not a sanction or a penalty. Nor is the minister of Holy Communion passing judgment on the person's subjective guilt, but rather is reacting to the person's public unworthiness to receive Holy Communion due to an objective situation of sin."
It is up to priests and bishops to meet with politicians, abortionists (and those who assist them), and women who have procured abortions, to first explain their grave sin.  If these people continue to persist in these abominations, they are to be denied communion.  Are priests and bishops admonishing the sinner?  If not, why not?
The issue of worthy reception of the Eucharist remains a paramount issue for the Church.  When certain Church leaders do not follow a long list of pope's guidance and cannon law itself it creates massive confusion on the part of the faithful.  What is worse, are cardinals who demand their priests offer communion to Biden.  Such an unjust command causes a dilemma.  Does a priest or seminarian refuse to obey the Cardinal and comply with Cannon law or strictly obey their bishop?  What are your thoughts?
We know objectively that more than 70% of Catholics sitting in the pews no longer believe in the Real Presence of the Eucharist.  This is a scandal for the Church and, clearly, a crisis of faith.  If priests, bishops, and cardinals do not emphasize the need for worthy reception of this life-saving sacrament, why should Catholics believe in it?
As a closing I found this excerpt from the National Catholic Register which we should all take to heart:
A year earlier [from the May 1917 Our Lady of Fatima's first appearance], heaven had prepared the children [of Fatima] with visits from the Angel of Peace. During one visit, he held a chalice with a Host suspended in the air over it. Leaving the chalice and Host suspended in the air, the angel knelt and had the children repeat three times:

"Most Holy Trinity, Father, Son and Holy Spirit, I adore you profoundly, and I offer you the most precious Body, Blood, Soul and Divinity of Jesus Christ, present in all the tabernacles of the world, in reparation for the outrages, sacrileges and indifferences by which he himself is offended. And, through the infinite merits of his Most Sacred Heart, and the Immaculate Heart of Mary, I beg of you the conversion of poor sinners."

Then the angel gave the Host to Lucia and the Precious Blood to Jacinta and Francisco, and said:

" and drink the Body and Blood of Jesus Christ, terribly outraged by the ingratitude of men. Make reparation for their crimes and console your God.
Picture Taken: American Magazine