Analysis by: Kevin B. McCarthy
On June 8, 2022, Corpus Christi for Unity and Peace ("CUP") held an education program to a capacity audience featuring Brian Burch from Catholic Vote at The Bridgewater Club in Carmel, Indiana on 161st Street. State of Indiana Attorney General Todd Rokita also providing opening comments and introduced Mr. Burch, with invocation offered by Monsignor Joseph Schaedel, Pastor of St. Luke Catholic Church.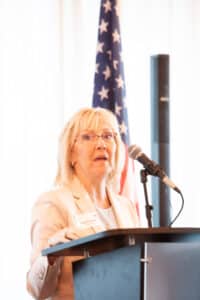 Vicki Yamasaki, founder and chair of Corpus Christi for Unity and Peace, moderated this wonderful event where those attending enjoyed a light dessert and beverages. Click here to view the video and the images captured from the evening.
She stated:
"There are few leaders as courageous and tenacious as Brian Burch —who strongly desires that all Catholics be equipped to apply their faith in their public lives. In leading CatholicVote, he represents a voice crying out for truth for every baby in the womb, every family, every Catholic (actually every Christian) in fighting to bring to public debate to those issues of supreme importance so we can preserve our great nation's democratic republic and live according to Divine Truth. We could not think of a better speaker to engage Catholics to activate them in their role civically."
Vicki Yamasaki welcomed the attendees, emphasizing "CUP's mission is to inspire Catholics to uphold and promote a culture that safeguards the dignity of the human person." Vicki summarized the CUP areas of key focus, namely:
1. The Sanctity of all human life;
2. The Sanctity of Authentic Marriage;
3. Religious Liberty; and,
4. The Natural Law.
Vicki described their principal means of achieving these goals as proclaiming The Truth through Prayer and Education. Prayer is the "Cornerstone" of CUP. Vicki described the two types of events that CUP sponsors, including prayer rallies, as well as educational events held throughout the year. Finally, Vicki introduced Indiana Attorney General Rokita, noting his role in defending religious freedom including intervention in a case against the Archdiocese of Indianapolis on Catholic Church rights to defend the institution of marriage from involvement in so–called same–sex unions.
Attorney General Todd Rokita gave witness to his call to come back to public life and run for Attorney General after retiring from the United States Congress. He described the involvement of his office in the cases against Cathedral High School and Roncalli High School, noting that its case is pending oral argument in the United States Court of Appeals for the Seventh Circuit. Todd Rokita also referenced his "Parents Bill of Rights" and requested prayer for the Indiana General Assembly before introducing Mr. Burch.
Brian Burch began his presentation by noting that having nine children does not necessarily mean sanctity on the part of the parents. He noted an "impressive crowd on a Wednesday night" and that, "We can't do this in Chicago." Brian began the substance of his talk by noting that "never before" had he attempted to give an off-the-cuff presentation, but he intended simply to "just speak from the heart."
Brian focused on the "opportunity we have as Catholics" to evangelize using the words of Pope John Paul II, such as the quote that: "in the designs of Providence there are no mere coincidences". Mr. Burch noted that His Holiness had great docility about Divine Providence.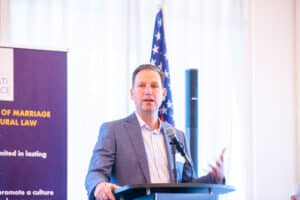 Brian got his start at the Ave Maria Foundation founded by Tom Monaghan (associated with Ave Maria University) in Ann Arbor, Michigan, but decided with a Ave Maria co–worker to found CatholicVote when Ave Maria moved from Michigan to Florida. CatholicVote was based in Chicago, but has a new and large staff presence in Carmel, Indiana. Because the New Evangelization is so impelling on the Catholic Laity, this reality leads to the importance of the laity to impact politics in their concern for the "Common Good".
In light of the Second Vatican Council, The Church leaves such prudential and practical questions primarily to the laity. This includes everything because being "Catholic" within Church has "universal" concerns. Catholics need to be "at the table" on every matter of public policy. In fact, the Catholic Church founded the health care system and the university system. Catholic doctrine, evident in The Catechism, focuses on two pillars, the "doctrine of subsidiarity" and the "doctrine of solidarity". Alexis de Toqueville touched on subsidiarity when he described "intermediate organizations" as the best to address societal problems. Brian then described subsidiarity as based on the principle that "Power resides at the lowest level necessary to address the problem." In this regard, Brian recommended that "When a higher level (of secular government) intrudes", we must move "to restore (the power) of the lower level."He then went on to observe that The Church needs "to build a bridge between Catholics on the opposite sides of politics" by reference to subsidiarity and solidarity. This is not just a battle over politics, but it is a battle for The Eternal.
We need to address America first and focus our duty of charity first on the nearest and closest. Brian then summarized the Address delivered by Los Angeles Archbishop José H. Gomez to the Congress of Catholics and Public Life at Madrid, Spain on November 4, 2021. The Archbishop addressed the problem of "The Elites" foisting the "Cancel Culture" on the world population and their advocacy of a new Pseudo– Religion. Brian noted that: "The elites want to impose their belief system on every human being."
Brian closed with a long quote from Peter Kreeft summarized by this writer in this way:
"Can you imagine . . . Becoming a saint?"
Finally, Mr. Burch challenged attendees to connect with their neighbors to engage in their role as citizens by staying informed and voting.