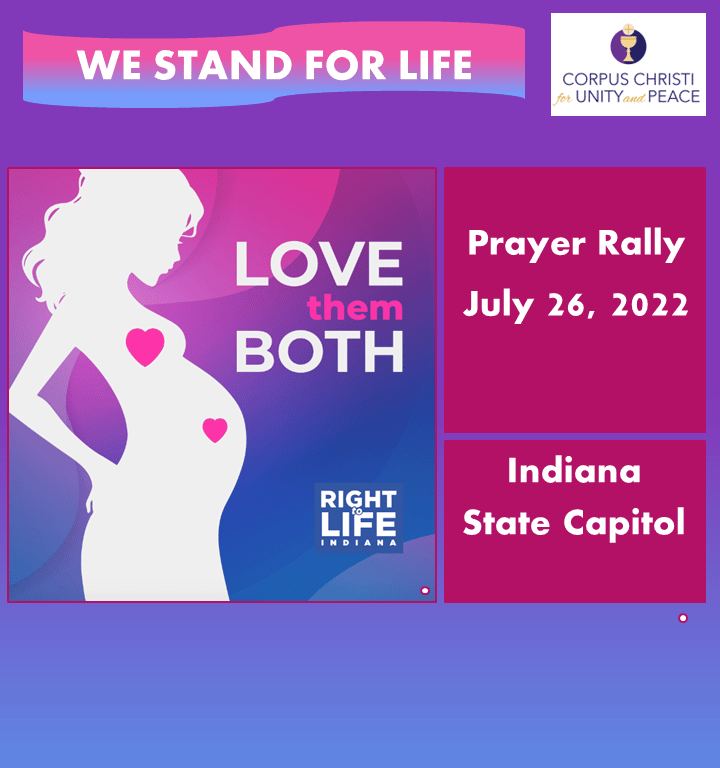 PROLIFE RALLY
TUESDAY, JULY 26, 2022
8:45 AM – 3:00 PM
Indiana State Capitol Atrium Doors Open at 9 AM
Program Begins at 11 AM (click here for agenda)
CHARTERED BUS FROM NORTHSIDE TO INDIANA STATE CAPITOL
DETAILS BELOW
About
Bus Depart Time:  8:45 AM (from Meijer parking lot, Carmel)
Est. Arrival Time: 9:30 AM (at Indiana State Capitol) – security checkin for rally participants (early checkin advised)
Program Begins at 11 AM
Bus Return Time:  2:00 PM (from Indiana State Capitol)
Bus Arrival Time:  3:00 PM (Meijer)
The Supreme Court's overturning of Roe v. Wade now throws the decision to save babies back to the states.  Unlike nearly a dozen states with total bans or bans for abortion after six weeks and the half dozen states soon to have these bans, Indiana still allows abortions up to 22 weeks.  Join us in praying for the legislature as they begin their special session, debating pro-life legislation that will further protect mothers and their babies.  We will gather to pray for their courage, strength and wisdom.
Check out Fr. James Altman's reaction to the overturning of Roe v. Wade
CUP is offering the bus and lunch free of charge, but the cost to CUP exceeeds $2,200.  We are grateful for a few generous donors that have helped us cover $1650 so far.  We appreciate your consideration in making a donation (see registration link below where you can donate) to help defray the costs for the day.
Details for the day:
CUP has chartered a bus departing at 8:45 AM from the Meijer parking lot (1424 W. Carmel Dr, Carmel, IN – located just east of Meridian St).  
If you want to drive down on your own, Indianapolis Right to Life encourages you to register at https://www.lovethembothrally.com
Indianapolis Right to Life, Students for Life, 40 Days for Life and many other pro-life advocate organizations will be joining CUP to pray for an end to abortion.
We will furnish lunch and water for the day. If you want additional snacks or beverages, we encourage you to bring those with you.
All prayer warriors will be praying inside the State Capitol (atrium).  You will have to go through security, so please refrain from bringing any type of perceived weapon (gun, knife, etc.).
The atrium inside the State house is reserved until 2 pm.  We will gather to head to the bus at 2 PM for departure.   We ask people to arrive back at the bus promptly to be respectful of all participating.
Indianapolis Right to Life has purchased T-shirts for everyone to wear with "Love them both" printed on them.  You will be asked for your size during registration so we can give you a T-shirt upon boarding the bus at Meijer.
CUP's pro-life rally coordinator for the day (and all communications for this event) is Samantha Smith.  Samantha can respond to your questions should you have any.  She will furnish her mobile number to attendees the day of the event.  You can reach Samantha at ssmith@corpuschristiforunityandpeace.org.
Questions?  Email SSmith@corpuschristiforunityandpeace.org
SPACE IS LIMITED ON THE BUS!  REGISTER NOW