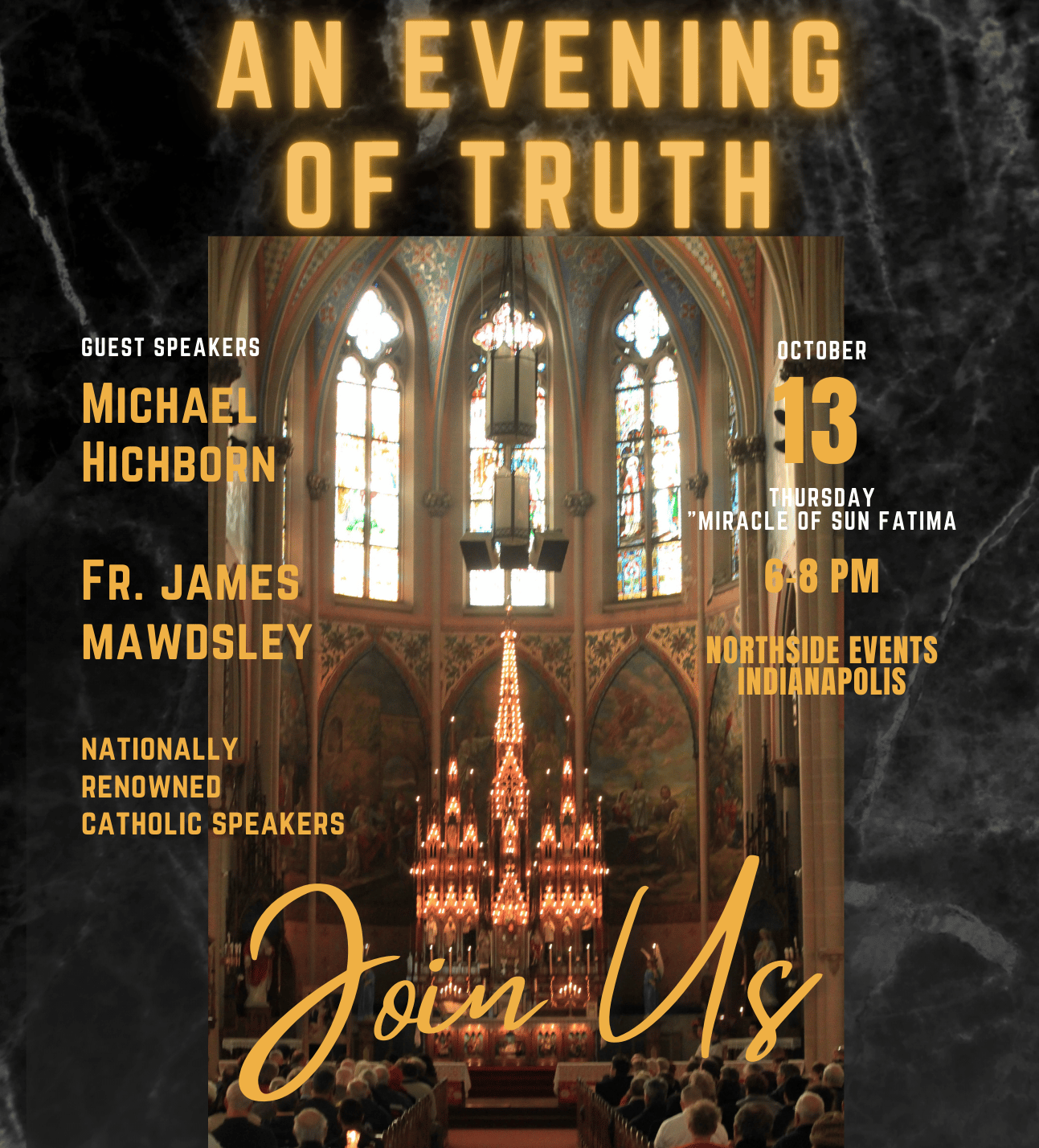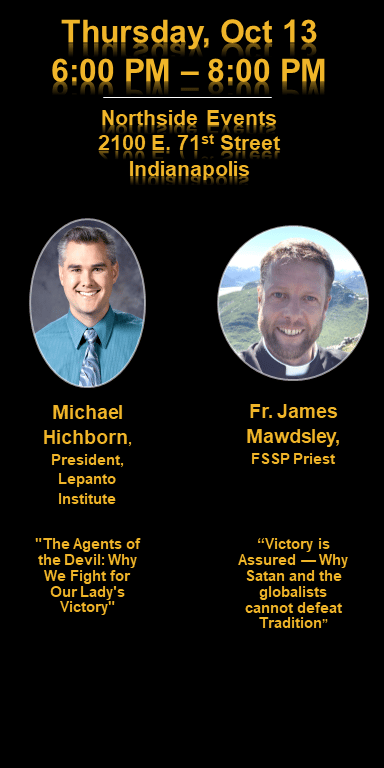 Join us for an unforgettable evening with two nationally renowned Catholic speakers.  Enjoy fellowship, hors d'oeuvres and beverages.  You will hear from Michael Hichborn, President of Lepanto Institute, and Fr. James Mawdsley, a FSSP priest and successful author from Europe.  Michael Hichborn through the Lepanto Institute has brought transparency and accountability, exposing Catholic Campaign for Human Development, Catholic Relief Services, and the AUSP and more for infiltrating the Church with a counter culture that diabolically opposes doctrine.  Fr. Mawdsley courageously took a stand during COVID tyrannical lockdowns and is highly sought after as a keynote speaker. 
About Our Guest Speakers:
MICHAEL HICHBORN, FOUNDER AND PRESIDENT OF LEPANTO INSTITUTE
Michael Hichborn, founder and president of the Lepanto Institute, is a well known public figure in the pro-life movement. Michael spent seven and a half years as American Life League's Director of the Defend the Faith project. In this capacity, Michael has researched and produced an annual report on organizations receiving grant money from the Catholic Campaign for Human Development. This annual report, exposing dozens of grantees that are promoting abortion, birth control, homosexuality and Marxism, has led to a nation-wide review of the CCHD and a tightening of its guidelines. Michael has also conducted research on Catholic hospital systems that are involved in the performance of abortions and sterilizations; he wrote a detailed report on abortion and contraception-providing organizations receiving money from Catholic Relief Services; and produced a detailed report on Obamacare and its danger to women, preborn babies and the elderly.
Michael holds a Bachelor of Arts degree from Christendom College in Political Science and Economics and a Master's degree in Education from American Intercontinental University.
In 2017, Michael became a member of the John Paul II Academy for Human Life and the Family.  Michael lives in Virginia with his wife, Alyssa, and their seven children.
FR. JAMES MAWDSLEY, FSSP PRIEST AND AUTHOR
Fr James Mawdsley, from England, was ordained in 2016. He was removed from active ministry in 2020 and again in 2021 for refusing to enforce corona restrictions on those attending Holy Mass. Being without active ministry, in 2022 he was suspended for leaving his order without permission, which he regarded as a necessary price to pay in order to address the threat to the Church exemplified by Pope Francis' Traditionis custodes. He believes that God offers through Scripture and Tradition a solution to the current crisis. Fr Mawdsley is author of Adam's Deep Sleep: The Passion of Jesus Christ Prefigured in the Old Testament (2022) and Crushing Satan's head: The Virgin Mary's Victory over the Antichrist Foretold in the Old Testament (2022).
Prior to seminary, he was a prisoner of conscience in Burma. He is a dual citizen of the United Kingdom and Australia.
SPACE IS LIMITED!  REGISTER NOW
EARLY BIRD DISCOUNT UNTIL SEPT. 23