Psychomachia: The Ultimate Battle Vice vs. Virtue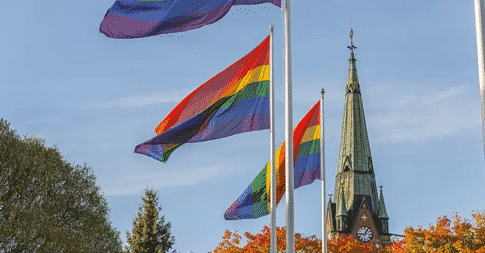 U.S. Catholic Embassy Flying LGBT Flag to Honor Pride Month 
Authored by: Prudentius

'
A Catholic's thoughts on "Pride Month"
When I was a child, I once broke a family rule to "not tell tales." As I visited the neighbors, I had a habit of sharing all sorts of things my parents and siblings would have preferred to remain private. My brother found out and swore he was going to tell our Dad as soon as he got home from work. I sat on the front step terrified of the moment MY transgression would be revealed. (Ah, the irony!) Do many of us relish the thought of having their transgressions revealed publicly? In fact, we go to great lengths to hide them. Oftentimes, we are filled with a great sense of shame, and guilt, almost self-loathing.
It's hard enough for Catholics to confess our sins to a Priest in the privacy of a confessional, let alone have them aired to our loved ones and friends. But why is it such a common human behavior, to hide our sins? Adam, first man, after having eaten of the forbidden fruit, hid from God. Adam knew, as we know instinctively when we have sinned against God's will. We also know it hurts Him, because when we sin, we are, really telling God that our way of living is better than HIS way of living, that we know better what is best for us. This is the sin of PRIDE.
St Thomas Aquinas identified pride as a special vice, a direct turning away from God. It is a capital sin in that it is actually in other sins. It isn't only that we sin in a myriad of ways, it is that we obstinately persist in acting in ways we know are contrary to the will of God. Perhaps this is what Dante Alighieri had in mind when writing his epic Divine Comedy placing Lucifer in the lowest realm of the Inferno, hell. Lucifer, aka Satan, The Evil One, whose banishment from God's kingdom for obstinately refusing to serve God and His plan. "He lifted himself up against God, and sought to attain his goal apart from him."
"The real black, diabolical pride, comes when you look down on others so much that you do not care what they think of you. Of course, it is very right, and often our duty, not to care what people think of us, if we do so for the right reason; namely, because we care so incomparably more what God thinks."
C.S. Lewis
So if pride described in this way is so incredibly offensive to God, and so disastrous for our eternal salvation, doesn't it seem absurd that "Pride Month" would be embraced and celebrated by too many of our Catholic spiritual leaders?
Since the beginning of June no matter where you look, the world seems to be caught up in a worldwide celebration of "Pride Month." From cereal boxes, to flags, to articles, to features, to books, to marches and dedications, everything, it seems, is adorned by a rainbow (Dear St. Noah, please pray for us!) This incessant prevalence of "Pride Month" has made for many difficult discussions with young children especially. But it has been made even more so as many of our Catholic spiritual leaders all around the globe have, in one way or another, embraced monthlong "celebration" of the LGBTQ+ lifestyle.
I do not doubt the Holy Father's good intentions or that of other Bishops and Priests to embrace ALL people, for we are indeed, ALL sinners. However, are these men making a crucial error in their good intentions? If you read the comments by interviewees in the footnoted articles, it seems many see their response as an implicit approval of the lifestyle in which they are living, not as an invitation to the mercy of God, a mercy we receive in the Sacrament of Reconciliation where we confess our sins and make a firm commitment to go and sin no more. After all, "Pride" festivities have their root in changing the public perception of homosexuality and therefore become culturally acceptable.
Initially, the event was set to remember the "Stonewall Riots" in 1969, when New York City police raided an establishment known for homosexual solicitation, illegal in New York City at the time. Riots ensued for unclear reasons, but it brought about a movement to legalize and de-stigmatize such activity. One of the founders of "Pride" celebrations, gay activist L. Craig Schooner, helped popularize the word "pride" to describe annual celebrations. He said, "A lot of people were very repressed. They were conflicted internally, and didn't know how to come out and be proud," Schoonmaker said. "That's how the movement was most useful, because they thought, 'Maybe I should be proud.'" Schoonmaker told The Allusionist that during the first Pride March, which he estimates brought in 3,000 to 5,000 people, they were "chanting, things like 'Gay is good,' 'Say it loud; I'm gay and I'm proud.'" He added that it was the first time LGBTQIA+ people "were able to acknowledge themselves and be able to be out in public."
So what IS the appropriate response of faithful Catholics to "Pride Week" and to those who experience same-sex attraction anytime whom we encounter in our lives? Make no mistake, many of us know personally people who suffer same-sex attraction and have suffered great pain and sometimes terrible discrimination and persecution as a consequence. As Catholics, we are always to treat every single human being like a beautiful gift from God, made in His image and likeness. We are to love all people and reject all forms of injustice and abuse toward the dignity of any human being. But we cannot allow ourselves and others to be led into the error that living in ways in conflict with God will realize this ultimate goal. How do we love everyone in the way Christ told us to love?
Simply, "To love is to will the good of another." What greater good is there than to gain entry to Heaven eternally? Perhaps you were taught as I was that it is our primary duty as spouses and parents. A Priest in his vocation has a duty to speak truth to his flock, to help them in their quest to gain eternal life. We, the laity, in our role also have a duty to share the truths of the faith to our brothers and sisters, even to our clergy who may be leading others astray, wittingly or unwittingly. We as Catholics also have a duty to witness to our faith in the world, to be well-versed in the truths of the faith, and especially to pray for anyone who struggles in the obstinacy of perpetual sin.
Just as St Thomas wrote extensively about the capital sins, he explained how to overcome these by practicing its opposing virtue. The opposing virtue of pride, he explained, is humility. Humility, he tells us, "…consists in keeping oneself within one's own bounds, not reaching things above one, but submitting to one's superior," in this context, submitting to God.
What better models of humility do Christians has than Jesus and Mary? On our behalf and in obedience to His Father's will, Jesus suffered the ultimate sacrifice of death, an excruciating death on a cross. His mother, Our Blessed Mother, Mary, humbly bowed her head and obediently accepted the difficult path God laid out before her, without hesitation.
For Jesus and Mary, the consequence of their humble submission was unbelievably difficult, and for every human being who chooses to live in deference to God's will over our own, it will also be, no matter how it manifested itself in our lives. Persisting in their example, we can not only practice this virtue in our daily lives, thereby modeling it to others, but also can (and MUST) pray for those who struggle in the persistent and obstinate sin of pride.
Providentially, the month of June gives us the beautiful feasts of the Sacred Heart of Jesus and the Immaculate Heart of Mary! Perhaps for the remainder of June and for every June after, we can pray daily to the united hearts of Jesus and Mary:
O United Hearts of Jesus and Mary, You are all grace, all mercy, all love. Let my heart be joined to Yours, so that my every need is present in Your United Hearts.
Most especially, shed Your grace upon those who persist in disobedience to your will.
Help me to recognize and accept Your loving will in my life.
Holy and Sacred Wounds of the United Hearts of Jesus and Mary, answer my prayer. Amen
No matter how we respond as people of God to "Pride Week" or to any number of the challenges which present themselves as we strive to live our lives according to God's will so that we can help each other and ourselves live this life to its fullest and obtain the bliss of Heaven in the next, we must always be prepared to speak the truth and live in Christian authenticity. It isn't easy, but it IS our right and duty.
Photo Credit:
www.christianheadlines.com/contributors/john-paluska/us-catholic-embassyflying-lgbt-flag-to-honor-pride-month.html
Footnotes:
1) Dante Alighieri, 1265-1321. The Divine Comedy of Dante Alighieri : Inferno, Purgatory, Paradise. New York :The Union Library Association, 1935.
2) Catechism of the Catholic Church, 2nd. ed., 415, https://www.vatican.va/archive/ENG0015/__P1C.HTM
 3) https://www.catholic.com/qa/why-isnt-noah-a-saint
4) https://www.newwaysministry.org/2014/07/01/all-are-welcome-pope-francis-impact-visible-during-pridecelebrations/
5) https://www.newwaysministry.org/2017/06/30/bishop-stowe-applauds-interfaith-pride-celebration-parish-andcelebrity-also-mark-pride/
6) https://www.newwaysministry.org/2018/07/14/parishes-celebrate-pride-month-but-obstacles-remain-to-fullinclusion/
7) https://bestlifeonline.com/why-is-it-called-pride/
8) Catechism of the Catholic Church, 2nd. ed., 1766, https://www.vatican.va/archive/ENG0015/__P1C.HTM
9) Summa Contra Gent., bk. IV, ch lv, tr. Rickaby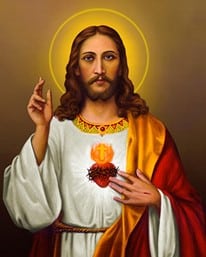 Sacred Heart of Jesus,
Have mercy on us!
Immaculate Heart of Mary,
Pray for us!