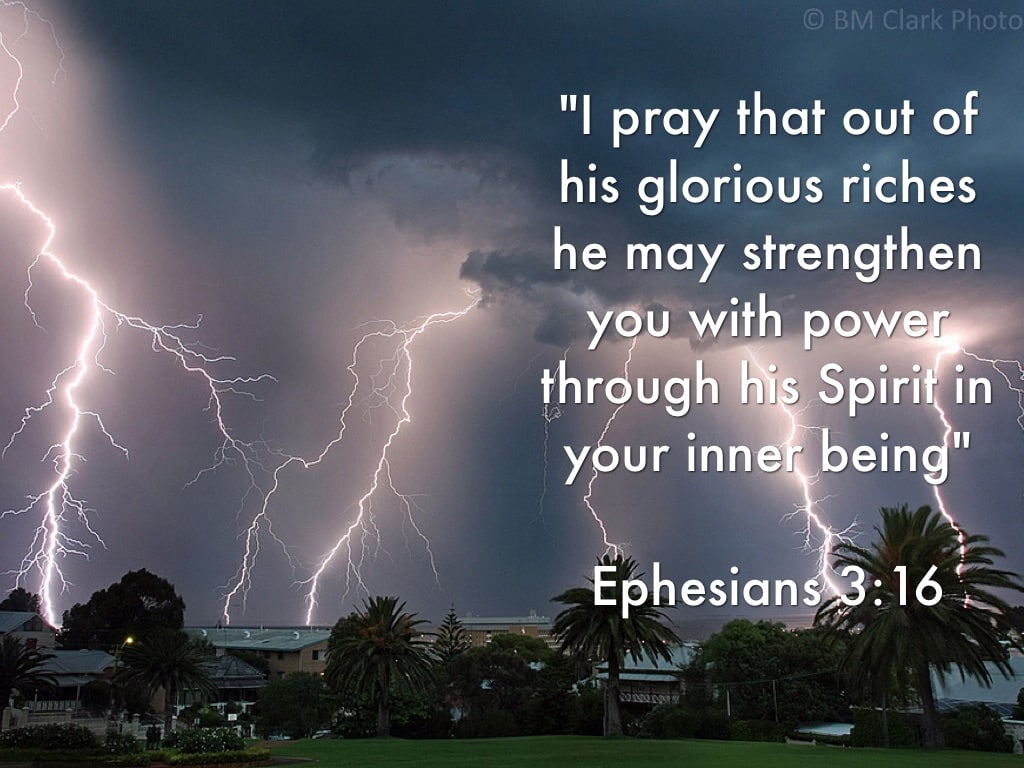 I have been very fortunate in my life. God blessed me with a good family and surrounded me with opportunities that ultimately gave me material wealth. Spiritually, I have had some ups and downs. When I was younger, building a career led me through a path away from God. Through several miracles, like a Prodigal Son, I found my way back to God.
On my return to Him, God filled me with even greater blessings. He filled our home with love and blessed me with success at my job. Then, later, God took away a large portion of that wealth He had given me. Some saw that as a failure.
SUCCESS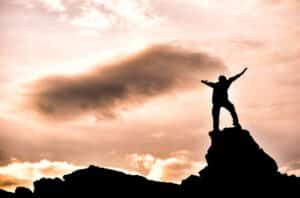 What is success? Webster's Dictionary defines success as the attainment of wealth, favor, or eminence.
The Catechism of the Catholic Church says we are given the freedom on Earth to earn a place in Heaven, thus defining success as gaining entry into Heaven. How does one do that? By faith? By works? The catechism says both, but it goes further: it says we must walk as one with Jesus:
The dignity of the human person is rooted in his creation in the image and likeness of God (article l); it is fulfilled in his vocation to divine beatitude (article 2). It is essential to a human being freely to direct himself to this fulfillment (article 3). By his deliberate actions (article 4), the human person does, or does not, conform to the good promised by God and attested by moral conscience (article 5). Human beings make their own contribution to their interior growth; they make their whole sentient and spiritual lives into means of this growth (article 6). With the help of grace they grow in virtue (article 7), avoid sin, and if they sin they entrust themselves as did the prodigal son to the mercy of our Father in heaven (article 8). In this way, they attain to the perfection of charity.
In another section, it goes on:
He who believes in Christ has new life in the Holy Spirit. The moral life, increased and brought to maturity in grace, is to reach its fulfillment in the glory of heaven.
Heaven is the ultimate end and fulfillment of the deepest human longings, the state of supreme, definitive happiness. To live in heaven is "to be with Christ."
True, success may include wealth, favor, or eminence, but it is not complete unless one walks with Christ. For those who achieve worldly success, the question should be "now what?" and they should look for the next pan of success: "Significance"
Luke 12:48
From everyone who has been given much, much will be demanded; and from the one who has been entrusted with much, much more will be asked.
The book "Power For Living" describes several individuals that have understood that message.
They have reached the pinnacle of their particular career, gained tremendous respect from their peers, but they humbly acknowledge that it is their submission to Jesus that has filled their lives and that without Jesus nothing will be worth it.
God has presented me with many opportunities to share my success. Looking back, I see that I did not take all of them, but I took some. I eventually learned that we are simply stewards of what truly belongs to God. That means, the blessing God gives us begets the responsibility to advance the Kingdom of God.
FAILURE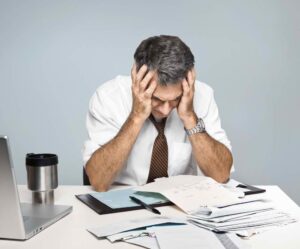 Matthew 6 25:34
[25] Therefore I tell you, do not worry about your life, what you will eat or drink; or about your body, what you will wear. Is not life more important than food, and the body more important than clothes? 
[26] Look at the birds of the air; they do not sow or reap or store away in barns, and yet your heavenly Father feeds them. Are you not much more valuable than they? [27]Who of you by worrying can add a single hour to his life [28] And why do you worry about clothes? See how the lilies of the field grow. They do not labor or spin. [29]Yet I tell you that not even Solomon in all his splendor was dressed like one of these.
[30] If that is how God clothes the grass of the field, which is here today and tomorrow is thrown into the fire, will he not much more clothe you, O you of little faith? [31] So do not worry, saying, 'What shall we eat?' or 'What shall we drink?' or 'What shall we wear?' [32] For the pagans run after all these things, and your heavenly Father knows that you need them [33] But seek first his kingdom and his righteousness, and all these things will be given to you as well.
[34] Therefore do not worry about tomorrow, for tomorrow will worry about itself. Each day has enough trouble of its own.
We defined success, so how do we define failure? The dictionary calls it "lack of success, falling short of something." But isn't a failure simply fear? Fear of not meeting our peer's expectations? Fear of letting someone down? Isn't it also pride and vanity? From our previous definition, success without the next step of significance, without walking with Jesus, is also failure.
But how can we fear if we are walking with Jesus?
Isaiah 41: 10 tells us:
So do not fear, for I am with you; do not be dismayed, for I am your God. I will strengthen you and help you; I will uphold you with my righteous right hand.
Eliminating fear is not easy, as we have learned through the pandemic. Our pride, our desire to place high among our peers, and many more pressures bring fear in our hearts. Fear sometimes translates into anger, anger toward friends, family, God. Fear sometimes translates into envy or jealousy or lying.
Satan knows it and plays fear to his advantage. How many times, I ask you, have you been faced with situations that tempt you to compromise walking with Jesus in exchange for short-lived satisfaction? If you are like me, plenty of times, especially during hard times.
A few years ago, I was driving to the bank, deep in thought, probably worrying about some financial matter. I parked my car in the bank parking lot and as I opened the door the strong wind took the door from my hands and into the car parked next to me. I closed the door and to my dismay, I noticed a nick on the car parked next to me. I went into the bank, wondering whether I should tell the owner of that car what I had done. Oh! What a coward I was. I left without saying anything. How wrong I was! What was my fear? Embarrassment? Money? I am ashamed of that moment of weakness. I now pray for strength and courage to do the right thing in even the smallest situation.
2 Corinthians 8:21
21 For we are taking pains to do what is right, not only in the eyes of the Lord but also in the eyes of men.
TEMPTATION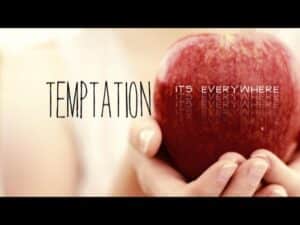 Matthew 4:1-11
Jesus Fasts and is Tempted
1 Then Jesus was led up by the Spirit into the wilderness to be tempted by the devil. 2 And he fasted forty days and forty nights, and afterward, he was hungry. 3 And the tempter came and said to him, "If you are the Son of God, command these stones to become loaves of bread. "       4 But he answered, "It is written, 'Man shall not live by bread alone, but by every word that proceeds from the mouth of God.
5 Then the devil took him to the holy city, and set him on the pinnacle of the temple, 6 and said to him, "If you are the Son of God, throw yourself down; for it is written, 'He will give His angels charge of you, and on their hands, they will bear you up
7 Jesus said to him, "Again it is written, 'You shall not tempt the Lord your God. "' 8 Again, the devil took him to a very high mountain, and showed him all the kingdoms of the world and the glory of them; 9 and he said to him, "All these I will give you if you will fall down and worship me. " 10 Then Jesus said to him, "Begone, Satan for it is written, 'You shall worship the Lord your God and he only shall you serve." 11 Then the devil left him, and behold, angels came and ministered to him.
Matthew tells us that Satan tempted Jesus to go against God's will by using his power to embrace worldly things. If Satan can tempt Jesus, you better believe he is after us every day. He tempts us with little things and big things; he tempts us to do things or not to do something. Satan knows when we are vulnerable. Temptation arrives in us humans when we fear failure or strive for success.
In the movie "The Devil's Advocate" the story centers on a young man, a recently graduated lawyer, who is faced in one of his early cases with lying and winning the case or telling the truth and risk losing the case. After several agonizing justifications to himself, he chooses to lie. Winning the case gets him an offer from a prominent law firm to become a partner with a huge salary increase. He continues to win cases making him a very rich and powerful man. The price for that success is the loss of his wife's health, his marriage, and the loss of his moral character.
He finally realizes that his boss at the law firm is the Devil himself. After a very difficult battle, he returns to the moment when he chose lying over truth and is given a second chance. This time he chooses to do the right thing, to tell the truth. He realizes that the money and power he chose before brought him nothing but unhappiness. Everything is back to normal; he is happy that he chose the right thing. A reporter comes to tell him just that and insists on making a full report on him and his background… he promises him that he will make him famous. The young man agrees to the interview.  Just then, the camera zooms to the face of the reporter as it morphs into the face of the Devil. Money and power didn't work? The Devil will try vanity!
Difficult times present many opportunities to stray from the Lord and accept Satan's offer.
Hebrews 11
6And without faith it is impossible to please God, because anyone who comes to him must believe that he exists and that he rewards those who earnestly seek him.
It is easy to get complacent in one's faith. Satan works hard at finding obstacles to muddle our spiritual life.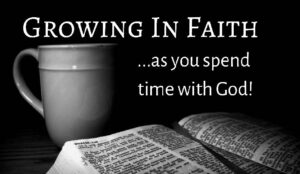 I read a book once that gave the acronym GROWTH to make it easy to remember how to grow in Christ.
Go to God in prayer daily
Read God's word daily
Obey God, moment by moment
Witness for Christ by your life and words
Trust God for every detail of your life
House the Holy Spirit in you
This is easier said than done. It reminds me of this story.
Two men are called to recite Psalm 23 to a large group of students. One was a professional orator trained in speech technique and drama. He powerfully read the psalm. When he finished, the audience cheered and even asked for a repeat performance.
Then the other man, who was much older, repeated the same words –"The Lord is my shepherd; I shall not want…" When he finished, no sound came from the large class. Instead, the people sat in a deep mood of devotion and prayer.
Then the first man, the orator, stood to his feet. "I have a confession to make," he said, "the difference between what you have just heard from my old friend, and what you heard from me is this: I know the psalm, my friend knows the shepherd."
This, my friends, is power for living.