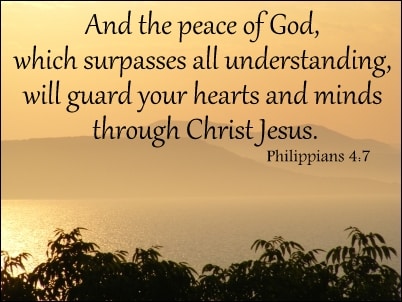 Long ago, after reading a pastor's note on peace, I asked, "What is peace?"  Many will say peace is the lack of war, some will say it's a feeling of comfort and others will say that Christ is peace.  All of these answers are correct but Philippians 4:6 says, "And the peace that surpasses all understanding will guard your hearts and minds in Christ Jesus."
What is that peace all about?
Many seek peace in their wealth or power.  Some seek peace in serving their community or gaining social status yet the only real lasting peace is in knowing, loving, and serving Christ.  As St. Theresa of Avila said, "Let nothing disturb you. Let nothing frighten you.  All things are passing away.  God never changes.  Patience obtains all things.   Whoever has God lacks nothing.  God alone suffices."  This is true but she also said after having a wheel break off during a trip, "If this is how you treat your friends, no wonder you have so few of them."  She knew as so many others do that life wasn't going to be easy.  We are told in 1 John 5:19 "that the whole world is under the control of the evil one." 
Today we are in a huge battle because most of our leaders have chased after the world and its promises instead of seeking God and His will.  They've ignored standing for a real Christian society. We live in a culture where leaders believe the ends justify the means so they can lie, cheat and steal, all for the "common good."
 St. Thomas Aquinas said, "Mercy without justice is the mother of dissolution."  Mercy has been preached with little said about justice so now sin has no consequences.  We have leaders who no longer follow laws.  Our politicians ignore our Constitution and laws that protect our border.  The spiritual leaders have ignored their religious laws like Canon 915 which keep mortal sinners from receiving the Eucharist.  Instead, our spiritual leaders have allowed those promoting abortion and the LBGT agenda to receive.  1 Corinthians 11:27-31 warns us that we must examine ourselves or we may reap condemnation.  We now have an American president that calls himself Catholic yet he is the most anti-life president in history!  He has reversed the Mexico City policy and allows experimentation on embryonic stem cells. Of course, Biden has been a politician for almost the same amount of time as McCarrick has been a priest.  The corruption of our Church seems to mirror the corruption in our government.
Our president and his administration are busy pushing the vaccine.  He is making it mandatory for federal employees and the military to get vaccinated with an experimental vaccine while never mentioning therapeutics.  He is pushing hard to get everyone vaccinated against the threat of Covid yet he is on track to welcome two million unvaccinated illegals invading our border this year!
In our schools, we have Critical Race Theory which is dividing our children and teaching them a racist history where whites are evil and blacks oppressed. There seems to be no acknowledgment that we fought to end slavery, that we had the Civil Rights Act to guard against racism, and that we elected a black President to two 4-year terms.   Instead, we have diversity czars in our government and Diversity, Equity and Inclusion (DEI) officers in our schools.  Seattle schools are now proposing that math is racist so will not have math standards.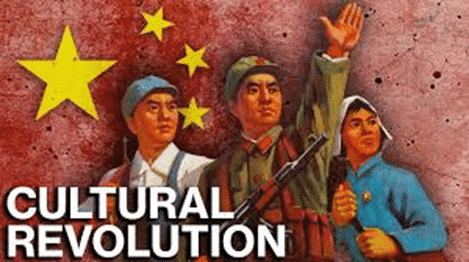 Nothing seems to make sense. I'm sure most see the hypocrisy, division, and insanity in both church and state so where do we turn?  As Catholics we all know that Jesus is our good Shepherd but how do we find peace in a world when right is wrong and wrong is right?
CS Lewis wrote in Mere Christianity, "If you look for truth, you may find comfort in the end: If you look for comfort you will not get either comfort or truth—only soft soap and wishful thinking to begin with and, in the end, despair."  I think that is the crux of our problem.  Too many have been ignoring the fullness of Truth in exchange for comfort.  Too many of our leaders compromise so they can collect donations, build campaign funds unabated and evade public persecution.  When our leaders do not stand for Truth, despair and destruction eventually happen in society.
Jesus warned us that we are in enemy-occupied territory.  He told us we will be hated but to know He was hated first.  He told us not to trust in man but to trust in Him.  This goes against our natural desire to be loved.  So how do we achieve peace?
True peace is found in Christ who calls us not to find comfort but to find Him …to seek Truth which is Him.  It is in finding Him that we recognize who we really are, sinners but sinners who are loved enough to become children of God!!  This is the great battle won for us in the cross of our Lord, Jesus Christ.  Yet, we too are called to take up our cross and follow Him.  We are called the Church Militant for a reason. We have been chosen, anointed, baptized to be children of God.  We are called to fight against sin in ourselves and the world.  Our joy is knowing He will be with us and help us.  Our joy comes in knowing His great love for us and how He pours out graces to us so we can win the fight.
What is winning?  Winning is making it to the Promised Land, heaven.  Just like the Israelites had to fight to get to the Promised Land, we too must do so as well.  Peace is found in God's will…even when it seems crazy like Abraham being asked to kill Isaac or Mother Angelica, a cloistered nun, starting a TV station!  God asks us to be faithful to Him and He works out the details.  We just pray and focus on our Lord and what He calls us to do.
Many talk about faith and try to live a Christian life but our faith is tested during difficulty.  True faith enables us to draw closer to Christ and His cross during the darkest of times.  It is in the dark that we cling to our Lord and it is in the dark where many of us find Him and His great love for us.  During troubled times, Mercy shines brightly in the dark and reaches out to save as many as possible.
Personally, I have experienced the tragedies of losing my firstborn at 6 days old and suffering a miscarriage a few years later.  During these lowest times in my life, I can attest to the love of God.  I felt His warmth and presence carrying me through the horrors of watching my baby die and be buried.  I've leaned on His promises in order to believe He would bless me with a healthy baby after waiting to get pregnant again and then miscarrying.  What I learned during those 4 years of waiting to have a healthy baby is that God descends into our world to comfort us.  He breaks through our anguish and despair in countless ways to keep us afloat.  Tough times strengthen people of faith as they witness Christ's love in personal ways.
Let me share one experience that seemed crazy at the time.  After I miscarried, as I lay sleeping, I heard a voice say, "1 Peter 5."  At the time, I laughed and thought it must have been a dream even though the voice was loud and woke me up at 5 am.  I went back to bed but in the morning decided to find my bible.  I didn't even know if there was a Peter in the bible.  So, when I found my bible I was thrilled to find that verse.  It was exactly what I needed to hear after crying myself to sleep and wondering if God hated me.  1 Peter 5:7 says "Cast all your anxiety on him because he cares for you."  But it goes on to say in verses 8-11," Be alert and of sober mind. Your enemy the devil prowls around like a roaring lion looking for someone to devour. Resist him, standing firm in the faith, because you know that the family of believers throughout the world is undergoing the same kind of sufferings. And the God of all grace, who called you to his eternal glory in Christ, after you have suffered a little while, will himself restore you and make you strong, firm and steadfast. To him be the power for ever and ever. Amen."
These few verses gave me the strength to continue knowing God was helping me through the suffering and pain.  It let me know others were also suffering and clinging to God.  It also confirmed my faith in Christ and that He sees our sufferings and that He truly is with us.
Today I find myself praying more and clinging to my Lord as I experience, not the death of my baby, but the destruction of our country and a church organization that is corrupt in many ways.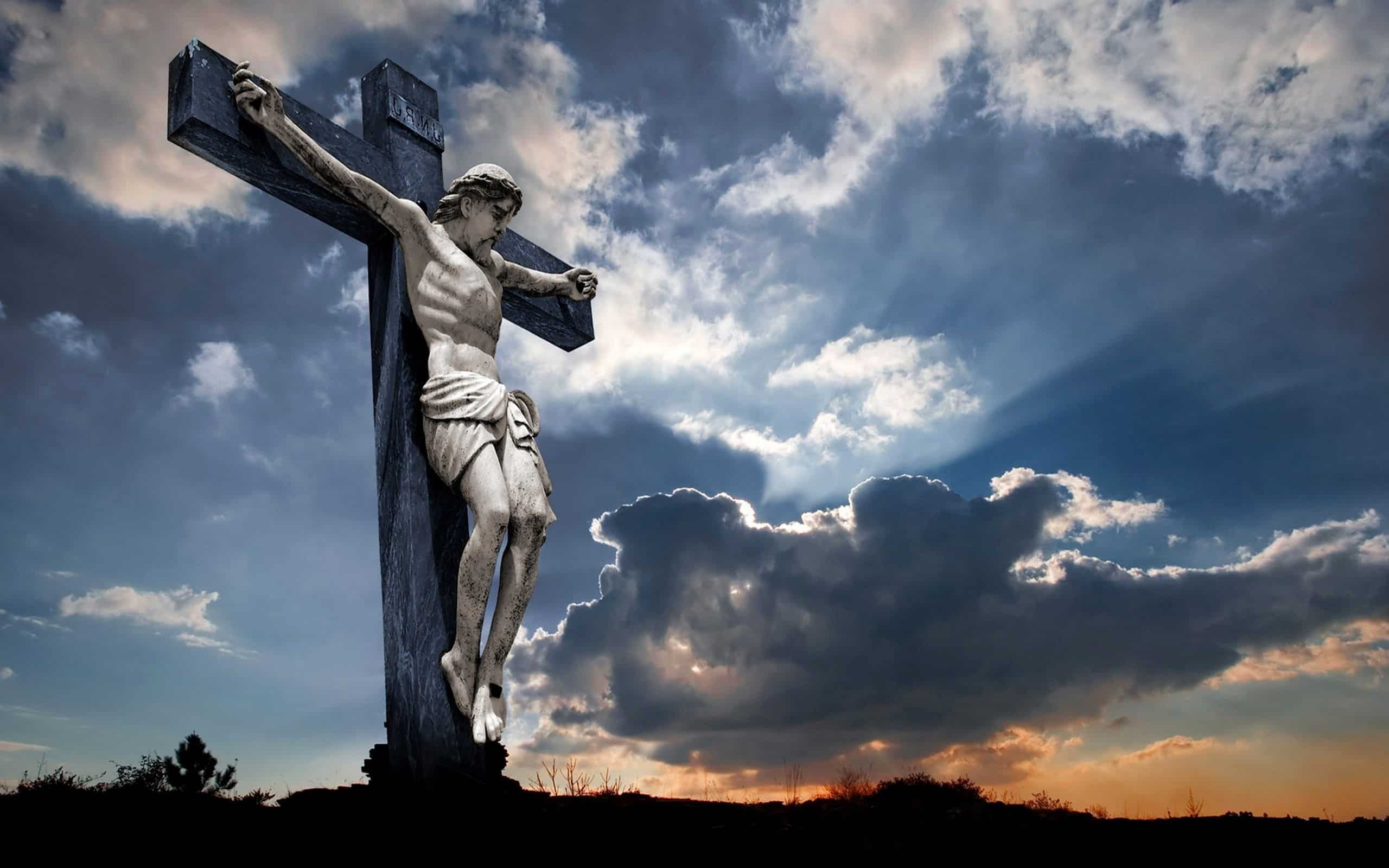 America is under attack. Its Christian citizens as well as our first amendment rights are being canceled, our borders are being invaded, and our children are being indoctrinated with hate from CRT propaganda.
In the bible, the word 'peace' does not refer to the absence of war or the absence of conflict or hostility.  It means much more than a lack of political or social conflict.  Peace, as presented in Scripture, means comprehensive well-being and wholeness of God's people, as we live in a covenant relationship with the Lord.  God's peace transcends anything that individuals, cultures, or civilizations could hope to achieve even in the best of human circumstances.  God's peace is redemptive wholeness and well-being created by the Holy Spirit in the hearts and minds of people in relationship with Christ.  This peace leads to harmonized relationships with God and one another. 
Our God is the source of true peace.  Peace is not something we can find in this world.  Peace breaks into this world from God Himself.  There is no peace without God.  God is the peace that surpasses understanding. As we read Philippians 4:6, "Do not be anxious about anything, but in every situation, by prayer and petition, with thanksgiving, present your requests to God. And the peace of God, which transcends all understanding, will guard your hearts and your minds in Christ Jesus." 
We have peace in knowing our Lord is merciful and faithful.  He will not leave us or forsake us.  We stand firm in knowing His love for us!  We know He sees all, hears all, and knows all and He is in control.  That is peace for those who believe in Him.