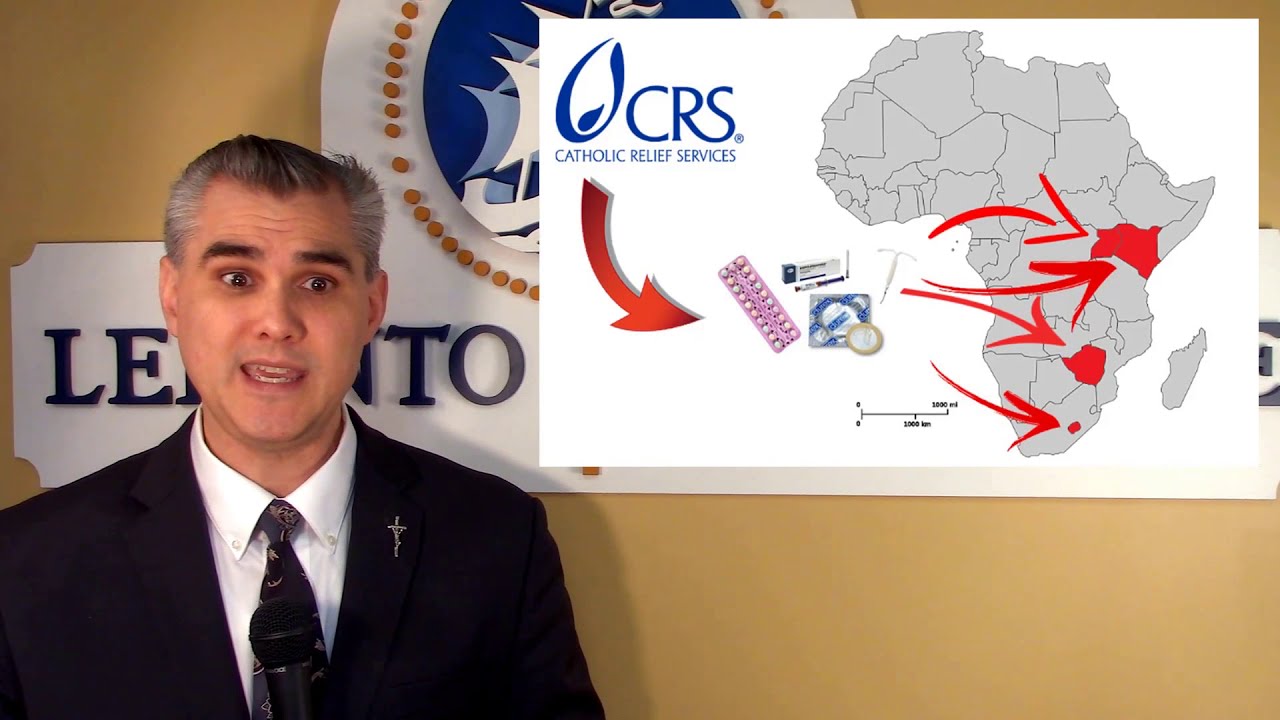 Does it matter that American Bishops look the other way when Catholic Relief Services promotes the distribution of contraceptives in 3rd world countries?
Those of you who have watched the Lepanto Institute's latest video message The Case Against Catholic Relief Services (CRS) may have come away with varied emotions and thoughts.  I would like to share a few of my own.
Michael Hichborn, the mastermind of The Lepanto Institute, has been belaboring for over a decade on the theme of the United States Catholic Conference's "ho-hum" responses when challenged regarding the funneling of CRS dollars for nefarious purposes.
The evidence The Lepanto Institute presents in the video regarding the use of funds donated to CRS to promote artificial contraception, immorality, and even abortion is compelling.
Some may wonder, when viewing the video, why Hichborn keeps repeating instances of CRS promoting contraception, immorality, and even abortion over and over through the years. The reason is he is building his case that responsible bishops are failing, over and over, to ensure that donations from the pews are not being used to promote practices contrary to the teachings of the Roman Catholic Church.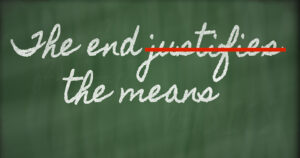 Now, dear readers, this is serious stuff. For Bishops to wave off abortions, promotion of sexual perversions, and artificial contraception in the name of well, its collateral damage in our war against poverty, is abhorrent.  The end does not justify the means.
I do wonder how many of the Catholics in the pews, if they venture out of their comfort zone to watch the video, will respond with, "Well, what's the big deal?" To a majority of Catholic mindsets, it could well be that contraception is not a big deal.
For decades the Bishops have been silent regarding the sinfulness of artificial contraception and winkingly give their approval.
LiveScience on April 13, 2011, reported a study by the Guttmacher Institute, found that 98 percent of sexually active Catholic women use or have used birth control other than church-approved natural family planning.
More recently, the Pew Research Center, (Pew, in the title, is from Joseph Pew, the founder, not for views of those in church pews) in a survey finding released on April 28, 2016, found just 8 percent of the Catholic respondents said contraception is morally wrong, with 89 percent saying it was either morally acceptable or not a moral issue at all.
If you've never read Humanae Vitae, issued in 1968, read it here. Every Catholic should read and embrace these reassuring words of our Creator's wisdom in endowing mankind with the recognition of natural laws regarding the use of our bodies; laws which are enshrined in the official teachings of the Catholic Church. Pope Paul VI stated, "…it is a serious error to think that a whole married life of otherwise normal relations can justify sexual intercourse which is deliberately contraceptive and so intrinsically wrong."
Paragraph 30 of Humanae-Vitae is addressed to Bishops and states: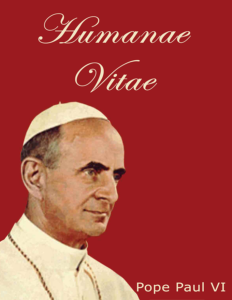 "…We invite all of you, We implore you, to give a lead to your priests who assist you in the sacred ministry, and to the faithful of your dioceses, and to devote yourselves with all zeal and without delay to safeguarding the holiness of marriage, in order to guide married life to its full human and Christian perfection. Consider this mission as one of your most urgent responsibilities at the present time…And life together in human society will be enriched with fraternal charity and made more stable with true peace when God's design which He conceived for the world is faithfully followed."
In other words, our Creator knows what's best for us, and since the time of Moses has been providing guidelines to ensure not only our happiness but peace for the world.
Still in doubt regarding rejecting artificial contraception?  Here's a quote from the Catechism of the Catholic Church, paragraph 2366:
"Fecundity is a gift, an end of marriage, for conjugal love naturally tends to be fruitful. A child does not come from outside as something added on to the mutual love of the spouses, but springs from the very heart of that mutual giving, as its fruit and fulfillment. So the Church, which "is on the side of life" teaches that "each and every marriage act must remain open 'per se' to the transmission of life. This particular doctrine, expounded on numerous occasions by the Magisterium, is based on the inseparable connection, established by God, which man on his own initiative may not break, between the unitive significance and the procreative significance which are both inherent to the marriage act."
Natural family planning is addressed in the Catechism, paragraph 2370:
"Periodic continence, that is, the methods of birth regulation based on self-observation and the use of infertile periods is in conformity with the objective criteria of morality.  These methods respect the bodies of the spouses, encourage tenderness between them, and favor the education of an authentic freedom. In contrast, "every action which, whether in anticipation of the conjugal act, or in its accomplishment, or in the development of its natural consequences, proposes, whether as an end or as a means, to render procreation impossible" is intrinsically evil."
Still not convinced of the Church's teachings?  Try this article from Catholic Answers, which examines multiple facets of the Church's position on birth control including through the lens of history, scripture, apostolic tradition.
A cursory review of authoritative literature, such as outlined above makes it strongly clear that the faithful have not been sufficiently instructed by their Bishops…going back to the promulgation of Humanae-Vitae in 1968.  How else can you account for 90 to 98 percent of Catholic women engaging in artificial contraception?  Clearly, the Bishops themselves have collectively abandoned their flocks and have chosen the path widely traveled by the world, which is the embracing of sex solely as an activity of pleasure.  Just as recently as Feb. 25th, 2022, Complicit Clergy posted another piece of evidence that the Devil's lies have captivated another Cardinal: "The Church's positions on homosexual relationships as sinful are wrong," said Cardinal Jean-Claude Hollerich of Luxembourg, in a recent interview with KDA, a German Catholic news agency. "I believe that the sociological and scientific foundation of this doctrine is no longer correct. It is time for a fundamental revision of Church teaching, and the way in which Pope Francis has spoken of homosexuality could lead to a change in doctrine…"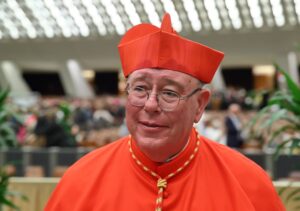 What makes this particularly disturbing is that according to Complicit Clergy, "The latest unorthodox proclamations by Cardinal Hollerich commanded attention because he leads the Commission of the Bishops' Conferences of the European Union, as well as being the pope's choice as "relator general" for the October 2023 global Synod of Bishops, helping shape its work to weigh the church's future."
With this sort of dissension that embraces LGBT+ within the Catholic Church, which is One, Holy, Catholic, and Apostolic, one wonders if the "One" isn't under attack today.  Many Bishops have turned their back on Humanae Vitae rather than do their duty to keep the Church "one" in belief. Why should the bishops worry about your donations being used by Catholic Relief Services to promote contraception, immorality, and abortion when the more popular thing is to look the other way and not to voice objections to contraception and a host of other moral perversions?
Jesus did say the gates of hell would not prevail against the Church, which should give faithful Catholics a sneak preview of the end game. However, back to today's world, Jesus did say in Matthew 18:6  "…if anyone causes one of these little ones who believe in Me to stumble, it would be better for him to have a large millstone hung around his neck and to be drowned in the depths of the sea."  Let us pray that the gates of hell will not be swinging wide open for the likes of Cardinal Hollerich.
Let us pray that the many faithful Catholics using Natural Family Planning will persevere in loving the Natural Law despite a lack of support from their Bishop.  May our prayers strengthen them in their resolve to harmonize their sacrificial love for their spouse with the desires of Jesus and the official teachings of the Catholic Church.  God, we pray, will, in turn, reward them with a joyful family life, loving children – God willing – and an eternal reward in Heaven.