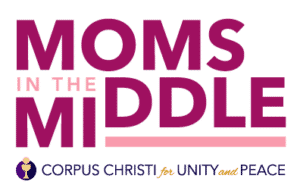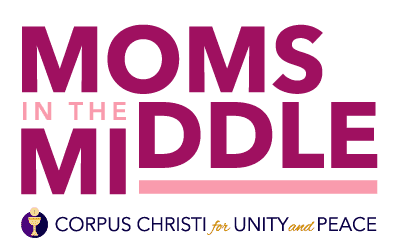 Corpus Christi for Unity and Peace (CUP) presented its inaugural "MOMS IN THE MIDDLE: A Catholic Mom's Night Out at the Women's Care Center (WCC) in Indianapolis to a capacity audience on May 13th, dedicated to the Feast of Our Lady of Fatima.  Women from 13 different churches representing three Catholic dioceses in Indiana attended.
The 90-minute, five-part program wrapped in prayer is geared to women in the "middle of life or in the middle of life in general."   Attendance was complimentary but advance reservations were required.  The event filled quickly and due to overwhelming response, others were placed on a waiting list.
Attendees toured the facility and enjoyed a relaxed, fun evening while learning about the extraordinary work of the Indianapolis center—the busiest of 33 centers in the country operated by the Women's Care Center.  The mission of each center is to help pregnant women from local communities choose life for their babies, have healthier pregnancies, become better parents and take first steps to self-sufficiency.  The results speak for themselves.
 of

Currently, one in seven babies born in Marion Country get their start at the Indianapolis WCC and 9 out of 10 women choose life after visiting this center located at West 86th Street and Georgetown Road.  WCC provides women with a range of support and linkage to other needed services.  Pregnancy tests, ultra sounds, counseling and parenting classes connected to material support are available through pregnancy and up until a child reaches kindergarten.  More than 150 parents attend education classes hosted by WCC each week.  Last year alone, nearly 2,000 babies were saved while more than 1,500 expectant mothers are currently under WCC's care.  More life-affirming statistics can be found here.
"The Holy Spirit was indeed at work.  We were absolutely blown away by the response we received for this new program and by the reception of our attendees–not only to the range of lifesaving work the Indianapolis WCC provides, but the volume of it ," said Vicki Yamasaki, CUP founder and board chair, who served as emcee for the event and moderated a panel consisting of Center Director Jenny Hubbard and a WCC nurse and counselor.  The panel explained how the center's founding honored the sanctity of life, a main CUP pillar, from its very beginning and has grown to be the most successful pro-life agency in the country.  As one attendee commented, "All of the women presenting were radiant—beautiful on the inside and out—reflecting love, hospitality and truth!"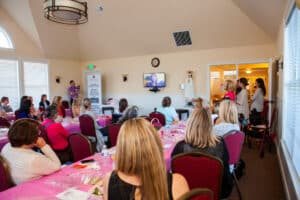 Check out the picture and video gallery here of the event
Stephen Jagla, WCC's Outreach Director, shared a video with testimonies of mothers they've helped and outlined ways in which attendees could support their lifesaving work through prayer, advocacy and financial donations.  Luxury Bingo, the WCC's centerpiece fundraiser, is key to providing vitally-needed resources to the Indianapolis Center, which does not receive federal funding.  Reservations and business sponsorships for the September 9th event can be made at: LuxuryBingoIndy.com
Donations of any amount can be made via text (text "INDYBABIES" TO 41444 ) or online at: SUPPORTWCC.ORG.  For more information, contact Jenny Hubbard at 317-829-6800 or Stephen Jagla at 574-250-0918.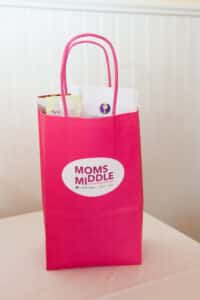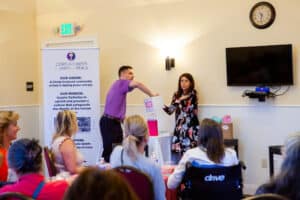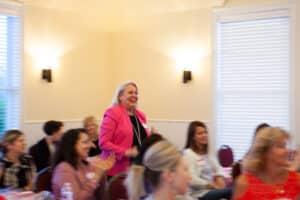 Attendees were treated to goody bags and several received donated door prizes and gift cards from Joe's Butcher Shop and Fish Market, Aqua Aesthetic Studio and The Celtic Cross. CUP would like to sincerely thank these donors and extend special thanks to Mary Kissel Photography and Sweet & Savory Catering.
The Moms in the Middle gathering provides a unique opportunity for Catholic moms to socialize, make new friends, entertain, educate and invigorate the special energy of Catholic moms during these trying times—shining the light on what is good, holy and working.  This is good-for-the Catholic-mom-soul programming!
The next Moms in the Middle gathering is scheduled for Thursday, August 26th.  Theme, venue and other details will be released at a later date.