Fr. Mark White, Crisis in the Church (Photos)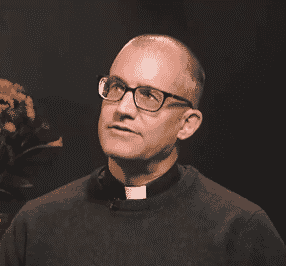 January 15, 2022
Northside Events, Indianapolis
At one time the chief problem in the Church was the tolerance of opposition to Church teachings, but we have been rocked in more recent years by countless horrific sexual abuse scandals —  and perhaps even more horrific, the cover-up of that abuse. Let's face it priests, religious and laity are wounded from these atrocities.
It's hard not to recognize we have a crisis in our Church.:
It is difficult to pinpoint the root cause of the crisis, whether it stems from the lack of belief in the Real Presence of the Eucharist, the sexual abuse crisis that has endured for 60+ years, the pandemic or the constant barrage of attacks coming from cultural influencers.  It is likely a combination of all of these factors.
On January 15, 2022, we were blessed to have with us Fr. Mark White.  Fr. White is a priest who, as pastor of his Virginia parishes, St. Joseph in Martinsville and St. Francis in Rocky Mount was sidelined. Unfortunately, this is becoming a more common issue across the country.
This priest has been ostracized for speaking out on the sexual abuse crisis, shedding light on the McCarrick scandal.  As the laity, we will not turn our backs on this faithful, courageous priest for without priests like Fr. Mark to exemplify fortitude and the cardinal virtue of justice, we are left lacking.  If you want to donate and support Fr. Mark, click here and indicate you wish to honor him.
A crowded room full of CUP supporters welcomed Fr. Mark White to Indianapolis and Corpus Christi for Unity and Peace where he broached a very difficult subject that is almost never addressed.
We are thankful that Chris Lingner, who specializes in video productions recorded Saturday's session.  It is included in our Resources section (Recommended Videos – click here) for your viewing.  We have also included a speech transcript to share with your family and friends.
Please enjoy the pictures, thanks to Lindsey Szkopiec!